The fourth event will be held on November 7 to 9, 2021, in the Palacio de Congresos y Exposiciones de Galicia. It features a fair, workshop, congress and an extensive training programme.
Visit the
Virtual Fairway
A hybrid event (in-person and online):
You'll find Fair, Workshop, Congress, Academy sections and a lot more...
This year, Fairway 2021 will introduce a new feature, since it'll be one of the first hybrid events in Spain. The fair, the workshop, the congress and even the Academy section will have an in-person part and an online part! If you can't attend the grand forum for professionals of the Camino, join the streamed event and enjoy everything we have to offer from the comfort of your home.
Would you like to find out all the details of the 2021 Fairway programme? Click on the link and discover the activities planned for Open Day, which is admission free for the public, and for Monday and Tuesday, aimed at the sector's professionals. These days will be full of talks and discussions, debating tables and training workshops, with a meticulous selection of speakers for this year's Fair, the 4th Forum of the Way of St. James.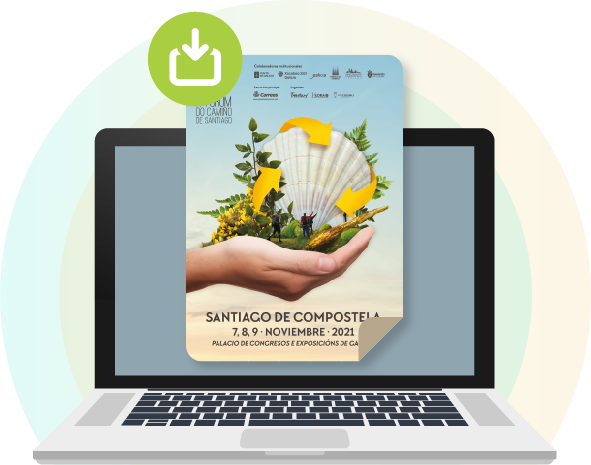 As a product of the reflection that many visitors who come to Compostela do not walk The Way, from Fairway with the creation of this route for the 3rd edition we want to offer the opportunity of stepping out of the classical touristic circuits and also enjoy a closer touch with the city.
The old belongings of a mysterious pilgrim have been found in the cellars of the Compostelaan Palace of Congress, but a fateful curse weighing on them has caused strange phenomena to start happening in the building.

10:30H - 11:30H -
12:30H -
13:30H -
16:30H -
17:30H -
18:30H

PALACIO DE CONGRESOS Y EXPOSICIONES DE GALICIA
Maximum capacity per group: 8 pax

2 groups per hour
Mindfulness refers to the mental state that emerges by paying attention to the present moment intentionally, without judging it and focusing on the immediate experience.


PALACIO DE CONGRESOS Y EXPOSICIONES DE GALICIA
Maximum capacity per group: 24 pax
APACA, Animais do Camiño Protective Association, will accompany us with some of their dogs. Do you know that this association collects, cares for and cares for abandoned, lost or mistreated dogs on the Camino de Santiago and looks for people willing to provide a better life through adoption or acceptance?

12:00 - 14:00H

17:00 - 19:00H

PALACIO DE CONGRESOS Y EXPOSICIONES DE GALICIA
Carolina Rubirosa, one of Galicia's most renowned singers and composers, presents the "O teu Camiñar" videoclip that accompanies the official song promoting the English Camino.
Everyone who visits Fairway on Sunday will have the opportunity to approach the gastronomy of the Camino de Santiago with a buffet where they can enjoy a selection of some of the most recognized dishes of the places through which the different Jacobean itineraries take place.
Bon appetit!


PALACIO DE CONGRESOS Y EXPOSICIONES DE GALICIA
The repertoire features themes that are very much centred on Díaz's voice or are linked to a more intimate format: that which combines traditional instrumentation and the Coruña musician's singing.


PALACIO DE CONGRESOS Y EXPOSICIONES DE GALICIA
In Fairway, dialogues between two characters from different fields will be offered, taking the Camino as a common thread, either because of their professional practices, their personal connection or as the axis of inspiration to tell their experiences. A different way of seeing the Jacobean experience.


PALACIO DE CONGRESOS Y EXPOSICIONES DE GALICIA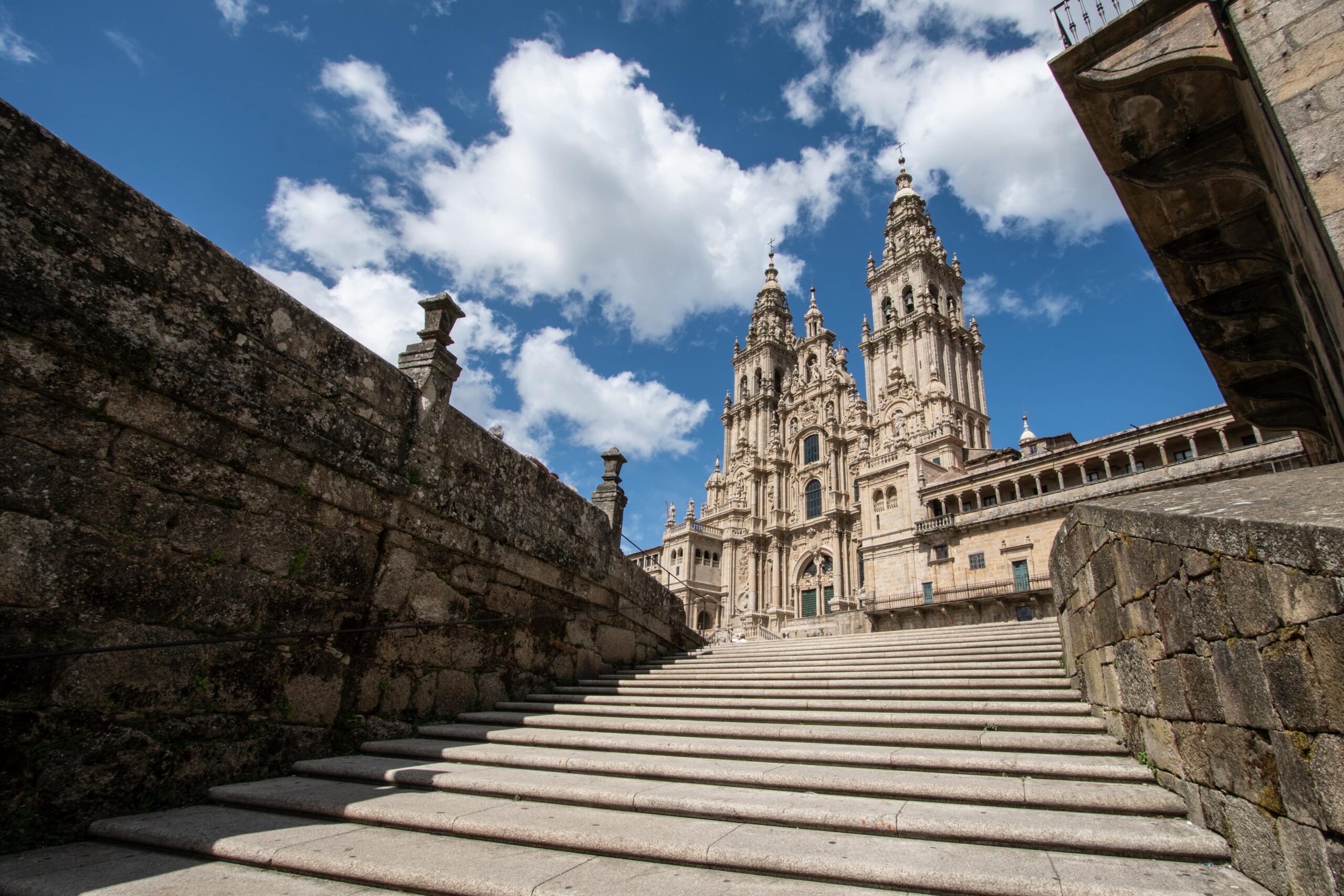 Tourism and Sustainability
Opening conference: Tourism and Sustainability



PRESENTER: FAIRWAY REPRESENTATIVE

NAVA CASTRO
Director of the Tourism Agency of Galicia

XOSÉ REGUEIRA
Vice President of the Diputación de A Coruña

GUMERSINDO GUINARTE
Tourism Councilman of the City of Santiago
Managing advertising on social media is getting more complicated. It is therefore necessary to be fully up to date in order to implement an optimum Ads strategy. This workshop will provide some key points in this regard.
A review of the current situation of the Camino after 18 months of pandemic. Representatives of different entities and organisations will try to respond to questions such as: Will the Camino continue to be saturated? Are there road safety problems in some stretches of the Camino? Is there unfair competition in the field of accommodation?
This round table will help us to reflect on what makes a client select one option or another, what makes a brand more than just a logo and become something emotional based on experiences. Recent success stories of hotel marketing will be explained.
JOHNNY SFEIR
CEO Customer Experience Academy & JSK Mind
AMPARO GARCÍA
Responsible of the project 'Digitize Happiness' of Vivood Landscapes and Zeus
Paradores Representative
Still to confirm
The Way of St. James is a life-changing experience for many people that decide to undertake the route. Many factors indicate that in the post-COVID-19 era we'll have to revise the models and that sustainability will play an essential role in the future development of the Camino's different itineraries.
This practical workshop will explain the difference between writing texts and copy, how to emphasis the benefit provided by a brand's services and know what are its hotspots.
The Camino de Santiago also adapts to the new times with the incorporation of new technologies. In this colloquium we will show you some experiences aimed at facilitating and complementing the tour of the different Jacobean Routes from any mobile device.
We'll discuss machine learning processes with technical specialists, who'll share their experience in designing algorithms, inherent to the tourist sector's digitalisation process, and reveal all the work that goes into learning about them.
Representatives of different organisations will debate about possible changes in regulations and health measures in preparation for the second Holy Year in this dual Xacobeo. Administrations, associations and companies will discuss how to face the 2022 Holy Year in view of the epidemiological situation and its possible evolution.
This practical workshop will provide the necessary basic notions so that anyone that attends will be able, even if they do not have much knowledge regarding the matter, to start an SEM campaign for their business.  
Forecasts of airlines, tour operators, travel agencies specialising in the Camino, persons in charge of promoting destinations in international markets will give us their latest point of view on the activation of international demand, which is so important for the Way of St. James.
We'll discuss digitalising experiences currently associated with doing the Way, both in the present and the future. We'll also comment about potential experiences of sustainability that may improve the pilgrimage.
Provincial Council's Person in Charge of Innovation and DTI in Ourense. President of the Spanish Association of Computer Experts
Representative of a Sustainable Plan
Still to confirm
Aimed at SMEs and anyone with a tourist accommodation business, this workshop will try to shed light on the confusion between Yield and Revenue. It will discuss the best tools for optimising the profitability of an existing or potential business.