Fairway is, in essence, a business meeting centred on the Camino de Santiago. Therefore, the Congress is aimed at building bridges between current affairs and tendencies, as well as training and debating aspects that really matter to a very extensive, multidisciplinary professional sector linked to the Camino routes: accommodation establishments, destinations, tourist service SMEs, restaurants, tourism students, etc.
The main theme will be the circular economy, which will be analysed transversally by means of debating and discussion forums centred on subjects of interest, presenting examples of their application that can serve as models. Moreover, other possibilities will be discussed that can help to promote businesses along the Camino.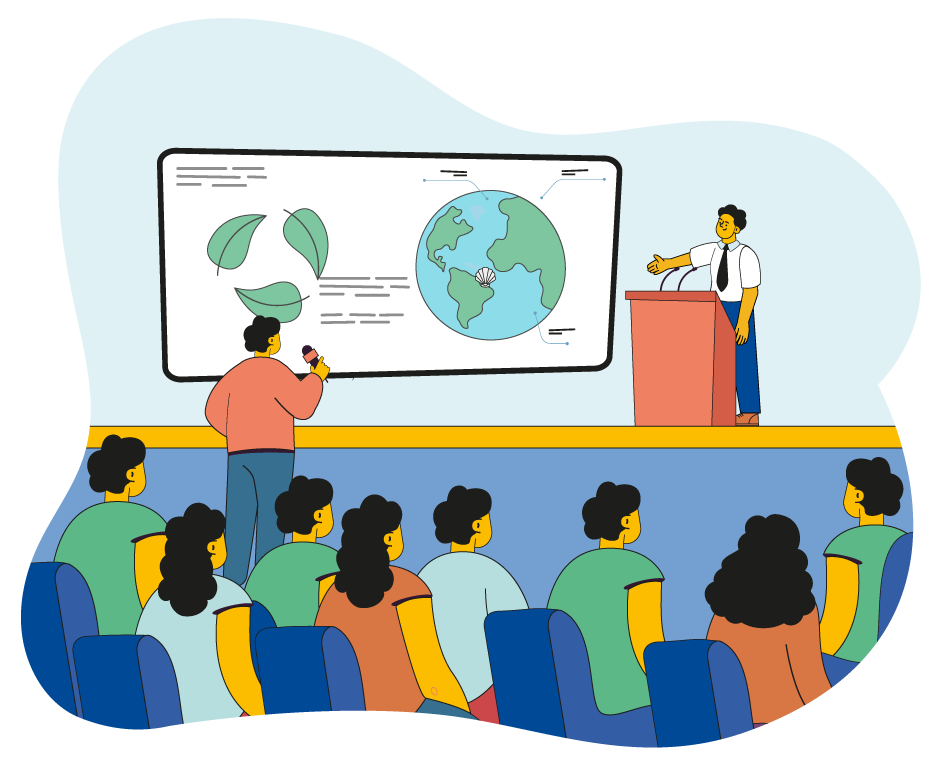 Did you miss last year's Fairway?
Here is a summary of the Congress 2021 activities in images.
This opening session will start the Academy and Congress sections with the participation of representatives of different administrations, who will discuss policies in favour of the Circular Economy and Sustainability.
Speakers:
 – X. Manuel Merelles – Director of the Galician Tourism Agency
 – Miriam Louzao – Councillor for Tourism, Santiago City Council
 – Antonio Leira – Camino Representative, A Coruña Provincial Council
The generalised increase in tourists, especially in cities, as is the case of Santiago, sometimes leads to conflicts between residents and tourists. The economic impact is undeniable, but… what price are we willing to pay?
Participants:
– Xosé Regueira – Vice-President of A Coruña Provincial Council
– Aurea Domínguez – President of the Association of Town Councils of the Camino de Santiago Fisterra – Muxía
– Pepe Formoso – President of the Professional Tourism Association of the Costa da Morte
– Miguel Pérez Cabezas –  President of the French Way Federation
– Flavia Ramil – General Manager of Santiago Tourism
– Lanzada Calatayud – Tech. Assistance of the Association of Town Councils of the Camino de Santiago Fisterra – Muxía
– Montserrat Villar – President of the "A Xuntanza de San Pedro" Association
A revolutionary tax or a necessary payment for maintaining infrastructure and services? Pay a tax to visit a city? Many think that this is crazy while others fiercely defend the idea.
Participants:
– Luis Pedro Martins – President of North Porto Tourism
– Cesáreo Pardal – President of the Galician Tourism Cluster
 – Luisa Lorenzo –  President of the Compostela Hotel Union
– Jorge Carregal – Communication Officer of Santiago Tourism
The experience that pilgrimages -that inner journey that liberates, heals, and restores grace- gives those that go on them has had a great impact worldwide. This has given rise to other initiatives linked, in one way or another, to the Camino de Santiago.
Participants:
 – Brad Towle – Kumano Kodo Trail (Director of International Promotion of the  Kumano Kodo Trail)
 – Turlough O'Donnell – Camino Saety Ireland O'Donnell Association
– Francesca Vincenti – Marketing Manager-Malta Tourism Authority
 – Russel Muscat – International Relations Manager at Heritage Malta

Managing health and safety along the Camino de Santiago is becoming one of the sector's biggest problems. This debating forum, featuring different experts, will try to shed light on a problem that is of great concern to the tourist sector.
Participants:
– Inés Mato Naveira – Sub-Director General for Programmes for Controlling Environmental Health Risks, Regional Health Department
– José Carlos Otero  – Honorary Professor of USC and member of the Spanish Entomology Association
– César Ballesteros – President of the Provincial Hotel and Restaurant Federation of Pontevedra
–  Miguel A. Rodríguez – President of AGALBER
– Iago Alonso – Manager of Plagostel