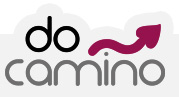 DO CAMINO was established in 1997 in the field of education and sports activities. We took our first steps in schools, by organising morning classes and extracurricular activities in several educational centres.
After some time organising traditional extracurricular activities, we added other initiatives such as urban camps, play-centres for weekends and holidays, birthday parties… The next stage was beginning with the organisation of small day trips. Cultural and festive breaks such as the Carnival in Cadiz, the "Fallas" in Valencia, "San Fermín"…
One day, the idea of organising a trip along the Camino de Santiago arose as a different type of family leisure option. However, we were surprised to see that people of all ages signed up for our trip. This made us realise that we could provide a useful service by organising an affordable, alternative Camino de Santiago route for all ages.
Today, after more than a decade organising Camino de Santiago trips, we have an extensive network that encompasses the different Camino routes. The French Camino from Sarria, the Portuguese Camino from Tui and Valença do Minho, the Mozarabic or Sanabria Camino from Ourense, and the section between Roncesvalles and Logroño, among other options.