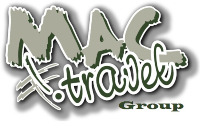 MAC TRAVEL GROUP is based in the centre of Montevideo's most prestigious business area. As the capital of Mercosur (Southern Common Market), this city receives thousands of tourists from a range of countries. The location of its offices gives it easy access to the area with the largest concentration of businesses, such as financial centres and banking groups.
As a solid company, we are capable of providing complete financial security, combined with massive benefits from the consolidated purchasing of important travel groups.
The experience of directors in the tourist industry adds up to more than forty years. Throughout all these years, they've travelled around the world to carry out inspections, thereby obtaining the best services and selecting the best operators in each country.

https://www.mactravel.com.uy/