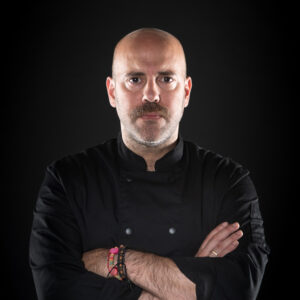 Chef of the "A Artesa da Moza Crecha" Restaurant"
Circular Economy and gastronomy
Lolo Mosteiro and Paula Martínez are Executive Chefs and the Owners of A Artesa da Moza Crecha, a restaurant of the "As Mariñas Coruñesas e Terras do Mandeo" Biosphere Reserve located in Betanzos.
They are also a  "Km0 Restaurant" belonging to the Slow Food Compostela Community, a "Stelar Network Restaurant" of the Association of English Camino Town Councils, members of the Spanish Eco-Tourism Club, "Galicia Sustainable Destination," and the "Foundation of Sustainable Restaurants."
Their restaurant prepares Tasting Menus made with local produce supplied by certified producers belonging to the Reserve. These menus change constantly in accordance with the season and the availability of such produce.
Another of the company's important branches is its "Moza Crecha Catering" division, which serves all kinds of events; it stands out by using, almost entirely, Km0 produce and wines belonging to the "Viño da Terra de Betanzos" protected geographical designation.