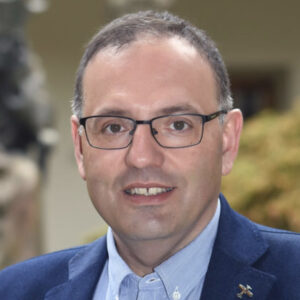 Vice-Rector for Planning and Strategic Promotion in USC
Circular Economy possibilities in technological life cycle
He has a degree from the USC's Chemistry Faculty. He was awarded an FPI grant during his PhD; he presented his doctoral thesis in May 1994.
In October 1994, he joined the assistant teaching staff in the USC's Chemical Engineering Department, obtaining a permanent post as an assistant lecturer therein in 1995. Finally, in September 1995 he applied for a lecturer post in the area of Chemical Engineering. In 2007 he was certified nationally as a professor in the opposition examination held in Madrid's Universidad Complutense. Then, in 2008, he was appointed as a professor in the USC's area of Chemical Engineering.
During these years, he has undertaken intensive research work in the following fields:
– Enzymatic catalysis. Oxidases and peroxidases. Immobilization in micro- and nano-particles
– Development and modelling of enzymatic reactors. Application to biodegradation of organic compounds(PAHs, industrial inks, and PPCPs)
– Application of the methodology of Life Cycle Analysis to different industrial sectors and processes
– Circular Economy, Eco-design, Eco-labelling, Eco-efficiency, and Environmental footprints
Coordinator of the Official Master's Degree in Environmental Engineering at the University of Santiago de Compostela (2005-2008), Coordinator of the National Thematic Network of Life Cycle Analysis (2002-2012), Director of the Chemical Engineering Department (2008-2017). Coordinator of the Degree in Chemical Engineering (2014-2018). Active participation in accreditation processes, especially IChemE accreditation in the Chemical Engineering degree in 2010 and 2013, degree and master's degree in Chemical Engineering in 2018. President of the Spanish Confederation of Chemistry Doctors and Deans since 2017. Vice-Rector for Planning and Strategic Promotion since 2018.