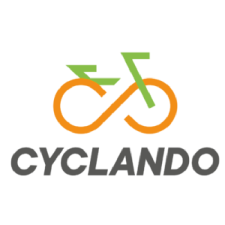 Cyclando arose out of a passion, for bikes, that united a group of professionals in the world of active holidays and computing.
Riccardo and Alessio, the two founders of Cyclando have turned their passion into a profession and their complementarity into the project's strong point. In fact, together they combine Riccardo's extensive experience in outdoor tourism and Alessio's in digital mapping. They met in the field, creating technology at the service of tour operators specialising in active tourism.
Travelling by bike can be exhausting, but it is definitely one of the most gratifying ways of exploring the world. However, the stage of planning a trip by bike is somewhat complex and not something that everyone is capable of. Combining services such as booking hotels, transporting luggage, choosing the right bike and an interesting, safe itinerary takes time and effort, as well as a minimum amount of technical knowledge.
That is precisely why Cyclando was created, to make organising cycling holidays fast and easy, introducing more and more people to an extraordinary and, we would even say, necessary way of travelling. Our dream is to make the world a more cycling-loving place and we will not stop until we do so!